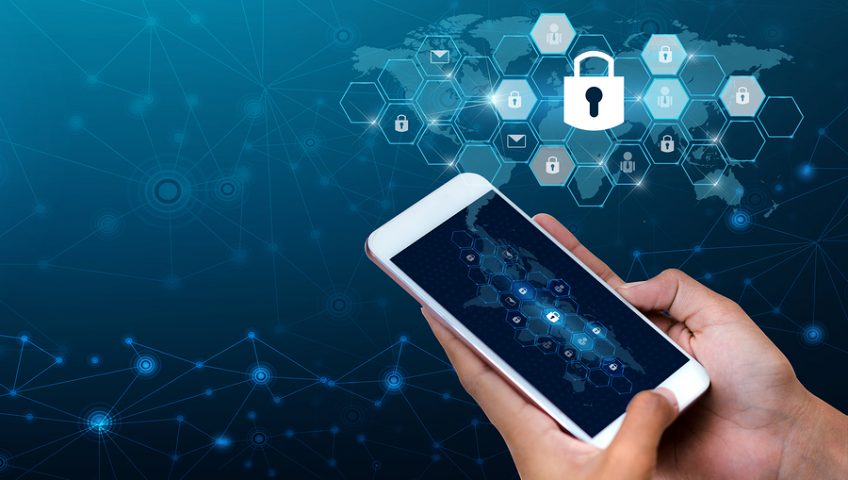 Your cell phone is the one thing that never leaves your side.  In a nutshell, it's your whole world packed into a mobile CPU, and your goal is to keep it safe.  But safety goes beyond cases and screen protectors.  Here's the real question: is your smartphone secure?  Protect your smartphone from bad actors, malicious software, lost data and more using these ten effective tips.
1.  Enable a Secure Lock Screen
Most people have a lock screen on their phone.  But if you're focused on security, it's important to go beyond predictable passwords.  Choose something difficult to guess and opt for a two-factor authentication.  This will make it more difficult for people to physically break into your phone.  And, if you want to take it one step further, have your phone set to be disabled or reset to factory-mode after a certain number of login attempts.
2.  Stay Updated
By updating your phone or an app to a newer version, you are not only getting a minor revamp, but you are also gaining security.  Hackers are always trying to bypass software security, and updates can provide new protections.  So, stay updated and remain secure.
3.  Avoid Third-Party App Stores
Third-party app stores host a variety of apps that are made by someone other than the manufacturer of a mobile device or operating system.  With little regulation, these app stores are known for privacy and security breaches upon purchase.  Don't put yourself at risk; protect your smartphone and use a reputable app store.
Currently, the most dependable app stores are Google Play and the Apple App Store.  These app stores adhere to strict provisions for an app to become available on their site.  And while some third-party apps do appear on big-name app stores, it's because they passed the strict provisions taken to assure their users remain secure.
4.  Regulate Your Permissions
If you go into your mobile settings, you'll be able to see a list of apps you have downloaded.  Each of these apps has adjustable permissions to regulate what the app can do.  Some apps may have posting privileges or have access to your location, contacts, and more.  There is no need for most applications to have access to such personal information.  Turn off these permissions to keep your information private.
5.  Maintain Possession
Only one person should have access to your phone: you.  When your phone is in your hands you can control the level of security.  You can avoid risky websites, control downloads, and ignore pop-ups and advertisements.  Letting your children or others on your phone can be a security risk.  So, the next time someone asks to use it, don't hand your phone over, do the browsing for them instead.
6.  Watch Your Wi-Fi Connections
Many locations now offer free wi-fi.  Unfortunately, these networks are not secure.  By connecting to a public wi-fi network anyone can break into your phone and obtain your personal information.  In addition, these unsecured network connections actually provide bad actors with some of the easiest hacking opportunities.  Don't let others have access to your private information.  Protect your smartphone and only connect to secure, encrypted networks.
7.  Invest in Anti-Virus Software
Like computers, cell phones need to be protected from malware.  Even if you're careful with the websites you visit and networks you connect to, it is important to have some sort of security if an issue were to arise.  Mobile malware itself has risen substantially over the past year; infecting devices in numerous ways.  Stay protected with anti-virus software and regular security scans, it will save you both time and hassle in the future.
8.  Backup Your Data
It's important to have a backup plan if something were to happen to your phone.  Backing-up your mobile data to a safe place like your computer's hard drive, or a secure cloud can give you reassurance.  Without data backup, documents can get lost or erased under unforeseen circumstances.  Be prepared for the unexpected and backup your mobile data.
9.  Use a Remote Device Locator
If your phone is lost, stolen, or manages to get out of your hands, it can be relatively easy to locate. Most phones have location features that once turned on and synced to a computer can be used to find your device.  Furthermore, there are numerous apps and physical tracking devices available for purchase.  Phones are expensive, and the content kept within them can be worth even more.  Avoid a potential catastrophe and use a remote device locator.
10.  Beware of Scams by Bad Actors
Bad actors are online con artists that attempt to deceive unsuspecting internet users.  And while the thought of falling victim to an online scam can be scary, there are numerous signs that giveaway phishing attempts and other scams.  Be careful when you open emails on your phone.
Effective security is something people strive for; but it can be hard to obtain.  That five-inch device sitting in your back pocket contains everything you know and more.  So, protect your smartphone by using these ten effective security tips.
If you'd like to know more about how CRU Solutions can help keep your business safer, contact us.