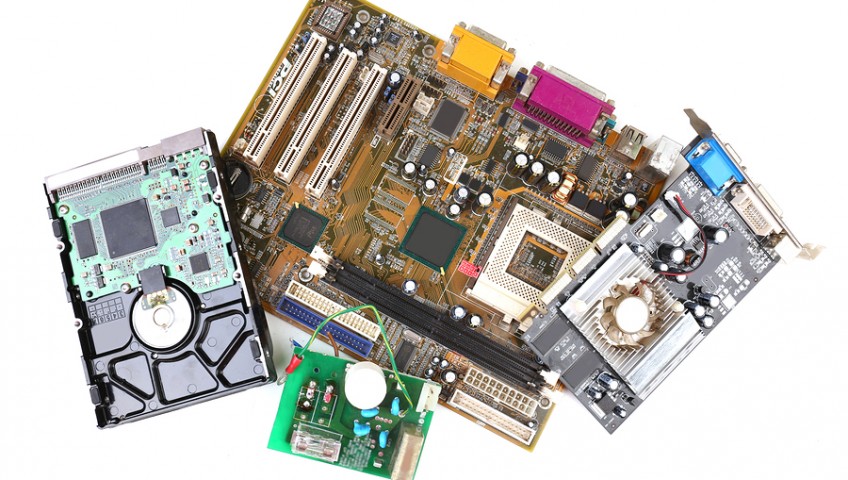 You're moving to the cloud so your servers are obsolete and your IT support team is installing new desktops.  How do you dispose of your old computer equipment?
If your organization must meet compliance requirements, you need a secure, reliable way to destroy all protected information.  From there, a responsible recycler can handle the equipment itself.
Not in the Closet
In addition to creating clutter, storing old computer equipment in a closet is a security risk.  We've seen machines, hard drives and all, stacked in a closet to get them out of the way.  If you're not careful, that closet will become like some people's basements – filled to the brim.  Once it's forgotten, one or two machines could disappear, along with the data, and no one would be the wiser.
If you must store old equipment in a closet, make sure you remove all hard drives and store them in a separate, secure place or have them safely destroyed.
Not in the Dumpster
Computers contain hazardous materials.  There are regulations that may cause you to be considered a generator of hazardous waste if you throw them in the dumpster.  Almost all parts of a computer can be recycled, so if your IT company doesn't offer safe destruction, find a recycler who can help.
Handling Disposal Yourself
There are local recyclers that will reformat and refurbish old machines.  You have the option to wipe the hard drive on your own, or they will do it for you.  Your compliance requirements will help determine if handling disposal yourself is the right option.
Your IT Support Team Offers Secure Destruction 
Ask if your IT support team offers a way to dispose of old computer equipment securely.  Ideally, asset recycling and drive destruction would include:
chain-of-custody proof from pickup to destruction of hard drives
removal and recycling of other computer equipment.
You simply turn the equipment and liability for destruction over to your IT provider.  And, nothing is stored in your closets!
If you're considering new business IT support, contact CRU Solutions.