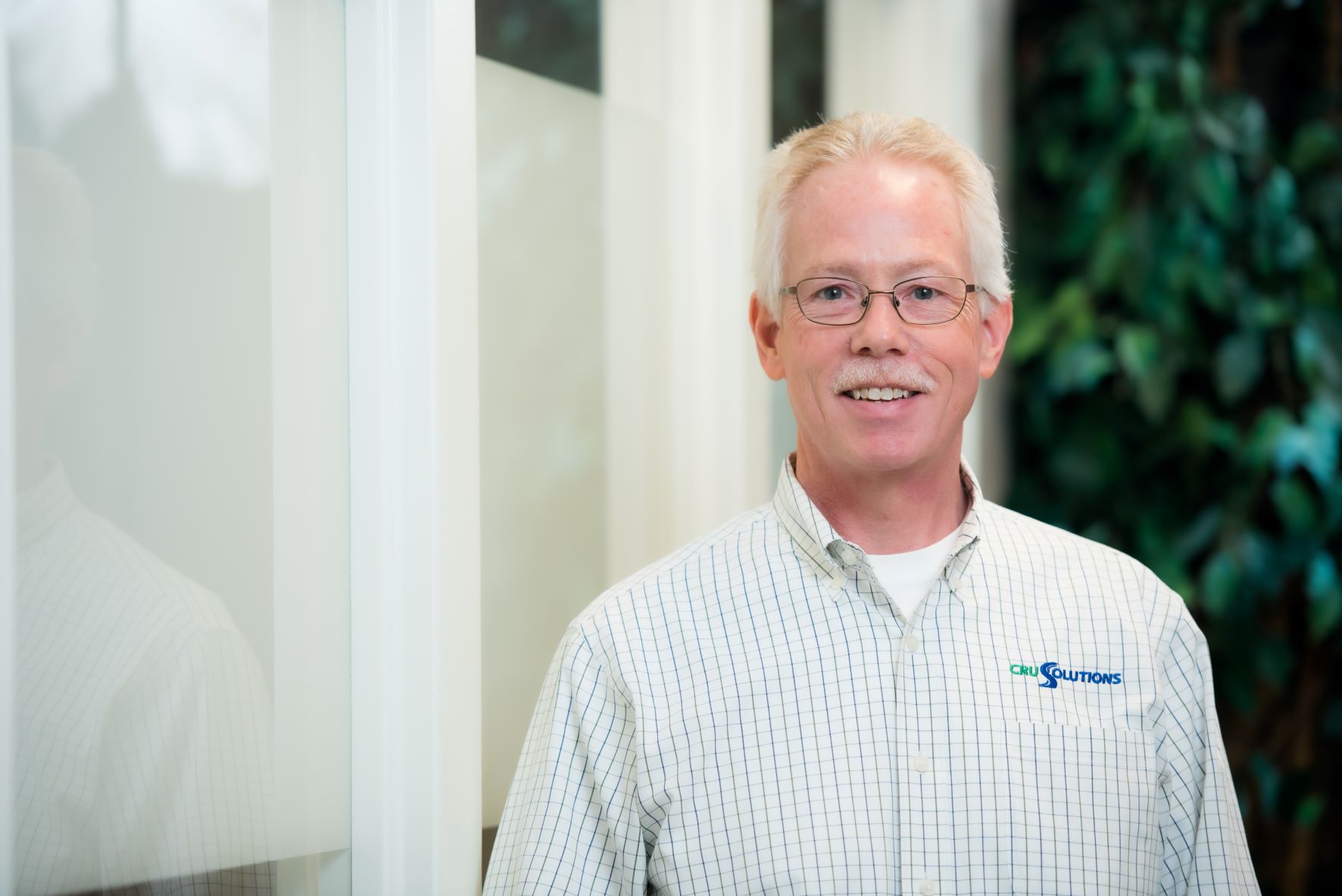 Act with integrity and do the right thing. Be helpful and truthful. – Jim Kerr
These words motivate every team member at CRU Solutions. They guide how we interact with each other and with our clients. Jim Kerr has cultivated this approach since he began the business 40 years ago.
As a student at Baldwin-Wallace College, he enjoyed helping other students and small businesses with their computers. Word got around, and Jim launched his own fledgling business.
He started out with programming skills and a TRS Model II, the first "business" computer that predated the IBM PC. He later added a 20 lb. luggable computer based on the Intel 8088 CPU running CP/M and supporting the fledgling MS-DOS 1.0 (by a startup called Microsoft). Those machines were heavy, clunky, and slow compared to today's devices.
An internship at GE strengthened Jim's determination to hang out his own shingle. This was the era of "Neutron Jack" Welch, who invented the practice of ruthless cost-cutting and mass layoffs to increase short-term profitability. Jim was disturbed by the results. "I saw whole departments of people escorted to their cars. One person who had been at GE for 30 years was moved to 3rd shift apparently just to make him quit," Jim says. "Another manager regularly took personal credit for everyone else's work, including mine, to make himself appear more valuable."
Still, Jim was fortunate to have a mentor at GE who helped him after his internship ended. She asked him to stay on as a consultant to finish programming for a key project. She even gave him tips on how to properly value his time.
"I was a student with few expenses," Jim laughs. "It was low-risk to start, then I kept going."
The notion of being a business owner wasn't new to him. As a teenager, he worked in his family's lumber yard, Kerr Lumber, in East Liverpool, Ohio. In addition to driving a tow motor and learning all about hardware, he saw first-hand how combining relevant knowledge with excellent people skills led to success.
Jim's view is, "As a leader, you can take credit for successfully managing the process, but you can't take credit for doing all the work itself. If you do, you'll never create an effective team."
Over the years, Jim has learned to trust the team he's created. "When I first started out, I thought everything in the business relied solely on me," he says. "I've learned over time to hire talented people and let them do what they do best. That leads to both happier employees and more satisfied clients."
Technology will keep changing. The CRU team will continue to work every day to effectively combine our clients' business needs with the most relevant technology. And perhaps most importantly, to help the people who are using it.

Our 40 Year History
CRU Solutions was founded in 1982 as Computer Application Consultants. The computer industry was in its infancy. Microcomputers were just coming into the marketplace. Businesses were just starting to understand what the desktop computer could do. At over $6,000 each, computers were far from appearing on every desk. Often, each department had one or two computers in a shared area.
The hardware was there, but there was no software industry. We began filling this niche of business software applications. We created membership tracking systems, credit card marketing systems, client tracking (the beginning of CRM-type systems), accounting interfaces, job performance systems for manufacturing, manufacturing process routing systems, and many others.
Clients began to rely on our expertise in the technology field for more than software. Clients wanted help with these new things called the Internet and networking, as well as troubleshooting when something wasn't working properly. Computer Repair & Upgrade was born. CRU focused solely on hardware while CAC continued its software-only mission.
In the late 1990s it became even more apparent that businesses did not separate hardware and software. They needed a "point" person to determine the issue and resolve it. CRU Solutions formed out of a merger of CAC and CRU. With the advent of remote monitoring and management tools, we shifted the company's business model to managed IT services. Today, those services have expanded as small businesses' need for cybersecurity risk management has grown.
If you'd like to know more about how CRU Solutions can help your team, contact us.