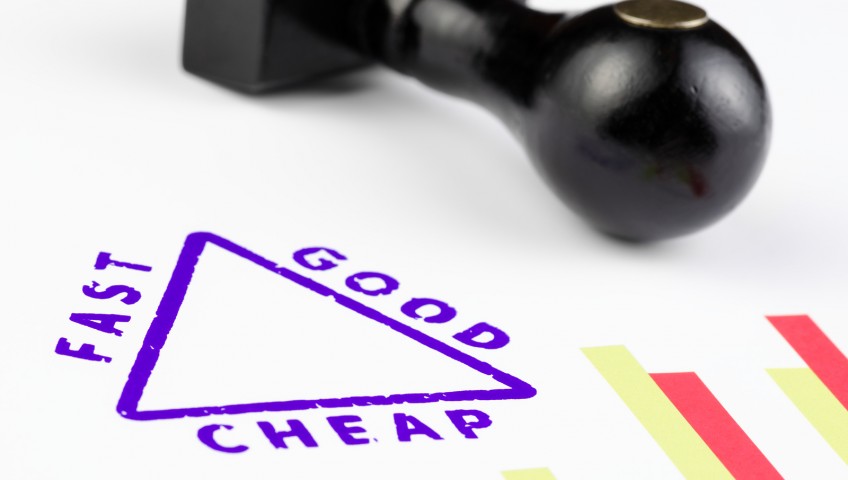 When you're evaluating managed IT services, what's more important – knowledgeable service, quick response, or low price?  This question has plagued both managed IT services buyers and providers for years (and maybe it plagues your business, too).
You've probably seen the "Good, Fast, Cheap" approach:
We Offer 3 Kinds of Services
Good, Fast and Cheap
But You Can Only Pick Two
Good and Cheap Won't Be Fast
Fast and Good Won't Be Cheap
Cheap and Fast Won't Be Good
Is it really so hard to "have it all"?  It depends on how you measure each of these requirements.
Good
In our opinion, "good" means knowledgeable advice, both when receiving day-to-day technical support and also when working on planning and budgeting.
But how do you measure knowledge when it comes to IT?  Is it getting the problem diagnosed and fixed on the very first try?  Or is it knowing what to do next when the first solution doesn't work?
Is knowledge measured in experience, training, or both?  When creating plans and considering budget options, there's no substitute for experience.  But in day-to-day tech support, sometimes you just need a basic understanding, and the more current the better.  Experience means less in that situation.
These are the questions you need to ask when you're evaluating IT firms.  Your answers will depend on the type of knowledge your business needs.
Fast
This one is a moving target.  Do you expect the phone to be picked up by a person every time you call?  Is voice mail acceptable?
If you call and the problem can't be resolved immediately, how long are you willing to wait?  An hour? A day? A week? Obviously the answer depends on the severity of the issue.  Only you can decide what makes the most sense for your business.
Cheap
A lot of your opinion about what's "cheap" will depend on how much you value IT as a strategic element of your business.
If smooth-running, secure IT is a key competitive strength, then your opinion of "cheap" is probably different than someone who views IT as a necessary evil and that computers should only be upgraded when it breaks or there's no other choice (like Microsoft discontinuing support).
As with any other purchase, consider the value you want to receive and weigh that against the costs.   Many business owners find that a fixed-fee service creates budget predictability and saves money in the long run.  Others disagree.  It's up to you what service model is best for your business.
It may be difficult to find managed IT services that are good, fast AND cheap.  The most important factor is deciding the value your business needs to derive from IT services and go from there.
If your business needs help managing IT, contact CRU Solutions.